WELCOME TO
RVSALESMANAGER.com
Everyone knows RVTrader, RVT, RVUSA and RVs.Autotrader.com BUT do you know there is another RV System on the internet search engines for RV Dealers?!

It's called RVSalesManager.com

15 of 60 search engine listings displaying an RVSalesmanager site.

This is the results for the search phase:
Newmar Diesel Motorhomes For Sale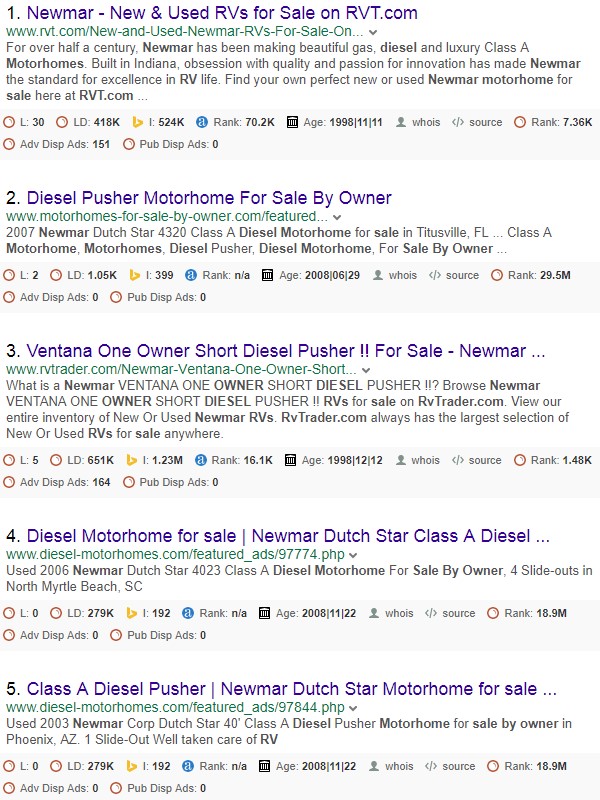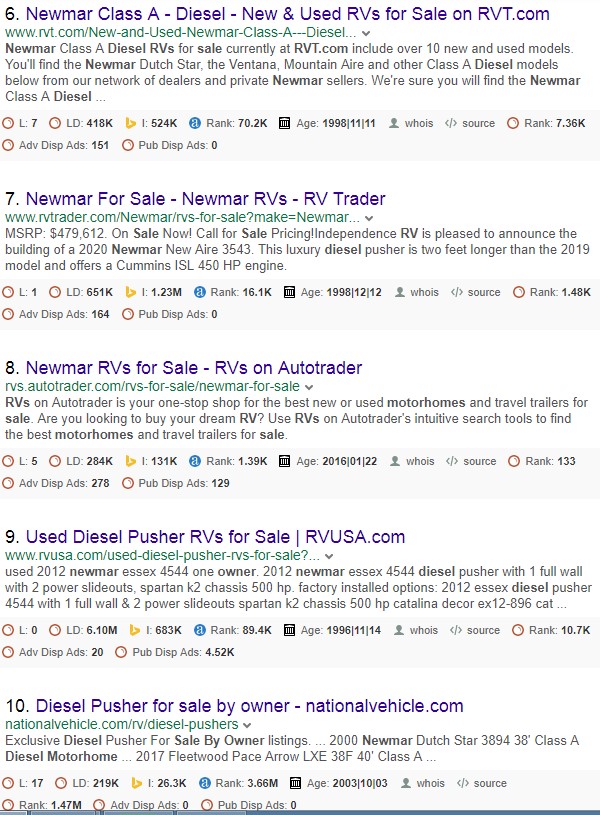 What you see is this:
1.RVT.com
2.Motorhomes-for-sale-by-owner.com
3.RVTrader.com
4.Diesel-Motorhomes.com
5.Diesel-Motorhomes.com
6.RVT.com
7.RVTrader.com
8.RVs.Autotrader.com
9.RVUSA.com
10.Nationalvehicle.com

What we see is this:
10 locations
RVT = 2 (1-6)
RVTrader = 2 (3-7)
RVs.Autotrader = 1
RVUSA = 1
RVSalesManager = 3 (2-4-5)

RVSalesManager is tied in with Motorhomes-for-sale-by-owner.com and Diesel-Motorhomes.com However, 2 4 and 5 is like nothing anyone else does. You may pay RVTrader, RVT, and RVUSA 100's of dollars every month to be listed on THEIR site so THEY can be listed top of the search engines. Where is YOUR Dealership? Somewhere in their site along with 1000 other RV Dealers? Sure you can pay a lot more extra along with every other RV Dealer to get your dealership logo viewed.

#2 Motorhomes-for-sale-by-owner.com #4 and #5 Diesel-Motorhomes.com listings are a lot different then anything anyone else does. These are Private Ad Search Result Listings. #2 and #4 were just sold so we will be replacing it with another Newmar Dutch Star motorhome that fits these listings keeping the search result active an giving the next seller "Instant Search Results". #5 is still available. Click on any number an you will see what we are developing for RV Dealers with this system.

The Right Menu - RV Dealers can have their Dealer Logo here. We have over 4000 locations today and growing we can place a Dealers banner on.
Featured Ads - RV Dealers can now have their units placed in for Featured Ads display.
We are now building these same ads for RV Dealers an getting them placed directly into the search engines! Only YOUR ads will display in the featured ads.

We can't promise you your ad will be placed in the number 2-4-5 location in the search engine but we do our best to get them ranked as high as we can.

Left Menu - This menu is very powerful. It is out on over 100 RV, Motorhome, 5th Wheel, and Travel Trailer web sites today. We are NOT going to be like RVTrader and RVT looking to get every RV Dealer. Were not going to be actively looking to get the other RV Dealers in your area to join our program if you are already with us.

Everyone want's to be FIRST on page 1, Not us NOPE! See search engines have changed. When you do a search an get to page 3 but still haven't found what your looking for they give you a TRY ALSO set of listings. When you click on one of them it DOES NOT take you back to page 1 again. It sends you to listing 31 to 40. With that being shared OUR goal is to be listed on EVERY PAGE in location 1,11,21,31,41,51 etc. Today we have 25% of this total search results where the other 4 are less then 15% combined.

RVTrader, RVT DOES NOT display after page 1. RVUSA and RVs.Autotrader has 1 listing each on 12 and 21.
RVSalesManager has an additional 12 more listings in the total search results.



11.diesel-motorhomes.com/featured_ads/97844.php
12.RVUSA.com
13.
14.
15.
16.
17.
18.
19.
20.
21.RVs.Autotrader.com
22.
23.motorhome-4-sale-by-owner.com
/featured_ads/97753_Newmar_Kountry_Star_Diesel_Motorhome.php
24.motorhomes-4-sale.com/featured_ads/97709.php
25.
26.
27.
28.
29.
30.
31.motorhome-4-sale-by-owner.com/index.php
32.
33.motorhomes4salebyowner.com
34.
35.
36.
37.
38.
39.
40.
41.motorhome-4-sale-by-owner.com
/featured_ads/97506_Newmar_Essex_Diesel_Pusher_Motorhome.php
42.motorhomes4salebyowner.com
43.
44.
45.
46.diesel-motorhomes-for-sale.com
47.
48.
49.
50.rvclassified.com
51.motorhome-4-sale-by-owner.com/featured_ads/97267.php
52.
53.newmarmotorcoach.com
/Newmarcorp/98177_Newmar_Dutch_Star_Diesel_Motorhome.php
54.
55.
56.diesel-motorhomes-for-sale.com
57.
58.
59.
60.